Flood Insurance: Rising Waters, Rising Costs
Flooding is the most common and expensive natural disaster in the United States, causing billions of dollars in losses annually. Historic floods like those related to Hurricane Katrina in 2005, the Mississippi River in 2011, and Superstorm Sandy in 2012 capture worldwide attention, but floods occur each year; in fact, every region of the country is subject to flooding. In 2015 and 2016, rainfall-induced floods devastated areas of Texas, Louisiana, Mississippi, South Carolina, and West Virginia.1
Despite the dangers, only 12% of U.S. homeowners had flood insurance in 2016, down from 14% in 2015.2 If you are not insured for potential flood damage, you may want to consider appropriate coverage even if flooding is not a regular occurrence in your area. More than 20% of federal flood insurance claims are filed outside of high-risk areas.3 If you currently have flood insurance, this might be a good time to review your coverage.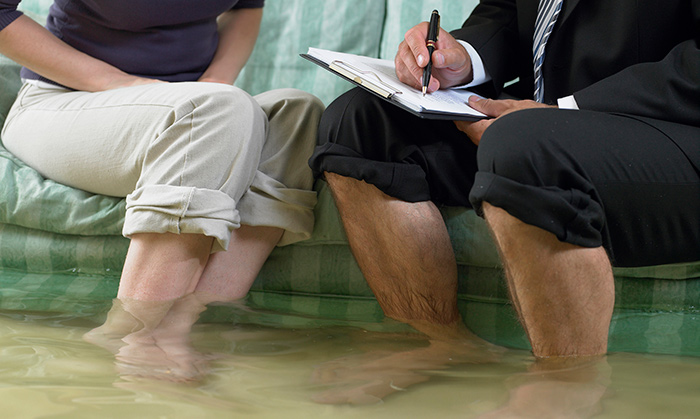 From the Ground Up
Water damage to your home from a leaking pipe or a hole in your roof — water that comes from the top down — is typically covered by your homeowners insurance policy. However, damage from water that enters from the ground up is excluded from most homeowners policies and requires a separate flood insurance policy.
In many communities, flood insurance can be purchased through the federal government's National Flood Insurance Program (NFIP) either directly or — more commonly — from private insurance companies that work with the NFIP through a program called Write Your Own (WYO). An NFIP/WYO policy provides up to $250,000 in replacement cost coverage to rebuild the structure as it was before the damage, while possessions are covered for up to $100,000 of their actual cash value (replacement cost minus depreciation). Renters may purchase a policy that covers only their belongings. Some private insurers might offer coverage with higher limits.
To be considered a flood for insurance purposes, water must cover at least two acres or affect two properties. Typically, there is a 30-day waiting period before flood coverage goes into effect, so property owners should not wait until there is an imminent threat to buy flood insurance.
Assessing the Risk
Although floods caused by big storms, hurricanes, and raging rivers tend to get the headlines, floods may also result from other, more common factors, including blocked drainage systems, spring snow thaw, ice jams, and even a hard rain.
Of course, some areas are more likely to flood than others. The Federal Emergency Management Agency (FEMA) calculates the degree of risk in your community based on assessments of rainfall, topography, tidal surge, flood control measures, and other variables. Flood-hazard maps are used to help communities identify the risk levels, depicting areas of high risk, moderate to low risk, or undetermined risk. Flood insurance premiums are based on the level of risk indicated on FEMA's flood-hazard maps.
To find out more about flood insurance and the risk in your area, including the appropriate flood-hazard map for your address, visit floodsmart.gov.
Federal Program Reforms
According to FEMA, 81% of current flood insurance policyholders pay premiums based on the true risk of flooding in their area.4 However, many policies in the highest-risk areas have been subsidized by the federal government. Congress attempted to reduce these subsidies with the Biggert-Waters Flood Insurance Reform Act of 2012, but the law met strong resistance because it caused large premium increases for some homeowners.
In response, Congress passed the Homeowner Flood Insurance Affordability Act of 2014, which prevents any policyholder from an annual premium increase exceeding 18% and sets a target of making flood insurance coverage cost no more than 1% of the covered amount. The measure also reinstated "grandfathering" for older properties and ended a provision that removed a subsidy once a home was sold. Subsidies on most other properties are being phased out gradually, with 5% annual rate increases until they are charged the full risk rate.
These changes, which became effective on April 1, 2015, reduced some rate increases already implemented (resulting in refunds) and prevented some future increases. However, many policies saw at least moderate increases due to higher reserve surcharges — $25 on flood insurance policies for a primary home and $250 on policies for second homes and nonresidential properties to help pay for subsidies until they are phased out. For policyholders who want to save on premiums, there is a new $10,000 maximum deductible option, which could reduce the base premium by up to 40% for a single-family home.5 Of course, a maximum deductible may not be appropriate for some homeowners.
Regardless of where you live, be sure to discuss any flood insurance concerns with your agent well before the water begins to rise.